| | |
| --- | --- |
| 2010 National Championship Results | |
National Championship News
U.S. FUTSAL FEDERATION News release Sept 12,2010 Long Beach, California --
The 25 th Futsal National Championship Concludes After Four Days of Intense Competition!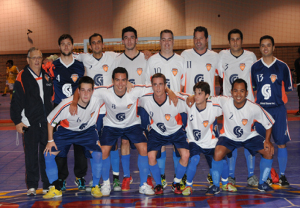 National Champions Bola Preta F.C.
(Open Mens Futsal National Champions
from Salt Lake City, Utah).
Picture courtesy of ActionShooters

National Chmapions Barbarians F.C.
U16 Girls from Pennsylvania
Picture courtesy of ActionShooters
Long Beach, California -- The 25th U.S. Futsal
National Championship concluded Sunday, July 11th after four days of intense and exciting competition. The biggest, oldest and most prestigious Futsal competition ended with teams from 12 different states winning medals. "This is great news", said Alex Para, President of U.S. Futsal, "because it not only shows how much Futsal has grown, but how competitive it has become all across the United States". With the growth of Futsal accelerating so rapidly over the last eight years, so has this competition. Teams from the west coast dominated the competition, with teams from California capturing the most medals, followed by Pennsylvania, New Jersey and Maryland. The Men's Open competition was won by Pro Sala F.C from Utah, who played against MACSA from California. which had won this division in 2001. This is the second time in 6 years that Utah United has won the the National Title. In the Women's Open category, MACSA from California won its first womens title.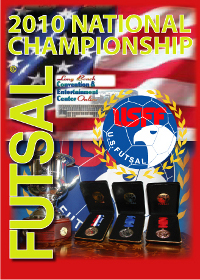 This year marked the third time the National Championship had 'age-pure' groups. All the games in every division over the course of this event were well played and attended by more than 8,000 participants and spectators. This support was most likely bolstered by the fact that there was quite a cross-representation of teams from regions throughout the U.S. Six out of eight regions were represented in these finals.


Fifty two referees, from various locations across the country, were invited to participate in this tournament. These referees have a combined total of 600 years of Futsal experience, which certainly enhanced the quality of games at this event.


U.S. Futsal congratulates all the teams that participated for their hard work, dedication and "fair play" throughout the competition.



2010 U.S. FUTSAL NATIONAL CHAMPIONSHIP RESULTS

 
CATEGORY
GOLD MEDAL
SILVER MEDAL
BRONZE MEDAL
 
 
 
 
U-10 Boys
MACSA F. C.
UFA ARSENAL F.C.
GOLDEN TOUCH F.C.
U-11 Boys
PAC ATLAS 98
MACSA F. C.
ARSENAL UNITED
U-12 Boys
MACSA F.C.
UFA RANGERS F. C.
MONTALVIN UNITED
U-13 Boys
PAC CACHORROS F. C.
UFA PV CLUB
RICHMOND FUTSAL
U-14 Boys
RICHMOND FUTSAL ACADEMY
DIABLO VALLEY F.C.
F.C. UNIDO
U-15 Boys
PRINCETON ACADEMY F.C.
F.C. UNIDO
GRIFFINS F.C.
U-16 Boys
BARBARIANS F. C.
LSTS FUTSAL CLUB
AMWAY F.C.
U-17 Boys
LSTS FUTSAL CLUB
UFA SANTOS CLUB
NA
U-19 MEN
MACSA F.C.
LSTS FUTSAL CLUB
SAN DIEGO F.C.
OPEN MEN
PRO SALA F. C.
MACSA F. C.
WORLD UNITED F.C.
O - 35 MEN
PRO SALA F. C.
Di BUFALA F.C.
FUTSAL 415
 
 
 
 
U-10 GIRLS
MACSA F.C.
F.C. BLADES
SFVC HURRICANES
U-12 GIRLS
S C BREEZE F. C.
SOCCER DOMINATION F. C.
SOUTH BAY MATRIX
U-14 GIRLS
SEVEN DEADLY CINDERELLAS
MVLA MERCURY F. C.
FUTSAL 415
U-16 GIRLS
BARBARIANS F. C.
MACSA
UFA MC
U-19 WOMEN
MACSA F.C.
FUTSAL 415
EXPLOSION F.C.
OPEN WOMEN
MACSA
Di BUFALA F. C.
FUTSAL 415
 
 
 
 
For further information, please contact
U.S. Futsal Communications
Tel. 510/836-8733(USFF)
Fax 510/527-8110


July 14, 2010