| | |
| --- | --- |
| 22nd Futsal National Championship Concludes After Four Days of Intense Competition! | |
National Championship News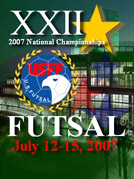 ANAHEIM, California -- The 22nd USFF National Championship concluded Sunday, July 15th after four days of intense and exciting competition. Eighteen State Associations where present from seven Regions, making this the most representative of all National Championships to date. The credit belongs to the State Associations and to the organizers of the Regional Tournaments, said Alex Para, President of U.S. Futsal. The final game of the competition was in the men's division, won by Utah United over World United, by a score of 5-4. With the growth of Futsal accelerating so rapidly over the last five years, so has this competition. Utah United came back from a three goal deficit in the last 7 minutes to regain the crown that they lost two years ago.  In the women's open category, "SoCal Futsal" from California Futsal South won its fourth consecutive title.  Team Manager and Coach Garett Hojisho has been a devoted supporter of Futsal since his team first competed in the National Championship 6 years ago.

All the games in every division over the course of this event were well played and well attended. It is believed that this anniversary championship was attended by a total of over 7,000 participants and spectators alike. 

Forty referees, from various locations across the country, were invited to participate in this tournament, including two international guest referees. These referees, with their combined CONCACAF and FIFA World Championship experience, certainly enhanced the officiating at this event. 

U.S. Futsal congratulates all the teams that participated for their hard work, dedication and "Fair Play" throughout the competition.
| | | | |
| --- | --- | --- | --- |
| Division | Gold | Silver | Bronze |
| U10 Boys | Blue Diamond FC (Southwest) | MACSA (Northwest) | Real F/S Academy (South-Central) |
| U12 Boys | MACSA (Northwest) | Stanislaus United (North-Central) | Diablo Valley (Northwest) |
| U13 Boys | Magic Santos (Mid-Atlantic) | LSTS Futsal (Northeast) | Temecula Hawks (Southwest) |
| U14 Boys | King Indoor Futsal (Southwest) | LSTS Futsal (Northeast) | Inter (Northwest) |
| U16 Boys | Pittsburgh6 (Northeast) | MACSA Yellow (Northwest) | King Indoor Futsal (Southwest) |
| U19 Men | MACSA Yellow (Northwest) | San Francisco B&G Club (Nat Org) | Di Bufala S.C. (Northwest) |
| Open Men | USA Futsal (Southwest) | World United (Northwest) | Jersey United (Northeast) |
| O35 Men | Brazilidad F.C. (Southwest) | Di Bufala SC (Northwest) | Ubatuba (South-Central) |
| Division | Gold | Silver | Bronze |
| U10 Girls | DVSC Shockwave (Northwest) | MACSA (Northwest) | McLean MPS Challengers (Mid-Atlantic) |
| U12 Girls | MACSA Gold (Northwest) | CJ Futsal - Lazerz (Northeast) | Smithfield Lady Strikers (Northeast) |
| U14 Girls | LSTS United (Northeast) | Futsal Funtastic Red (Southwest) | MACSA (Northwest) |
| U16 Girls | MACSA (Northwest) | So Cal Futsal Academy (Southwest) | El Paso Elite (South-Central) |
| U19 Women | So Cal Futsal Academy (Southwest) | Greenwood Futsal (Northwest) | Slammers (South-Central) |
| Open Women | So Cal Futsal Academy (Southwest) | Southern Maryland Futsal Club | A Futbolito Club (Northwest) |