| | |
| --- | --- |
| SNAP SPORTS NAMED OFFICIAL FLOORING OF UNITED STATES FUTSAL | |
National News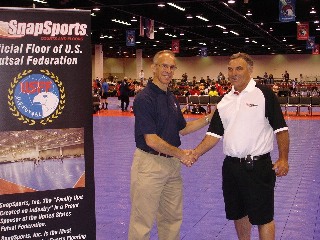 Alex Para, USFF President and
Dan Wollman, SnapSports Vice President

Berkeley, California (Futsal Wire) --  SnapSports LLC, the leading outdoor courts and modular sports flooring manufacturer, is named the Official Flooring of the United States Futsal Federation. US Futsal President & CEO Alex J.C. Para and Sr. Vice-President Dan Wollman of Snap Sport (pictured at right) signed the agreement at the 23rd Futsal National Championship

Futsal is a five-a-side version of soccer for competition and played on basketball-sized courts, both indoors and out without the use of sidewalls. This exciting and fast paced sport traces back to 1930's and today is played worldwide at every level. The U.S. Youth Soccer Association (USYSA) and U.S. Futsal signed an agreement in August of 1995 and in 1999, to promote Futsal in all their National State Association as their game of choice for indoor soccer under the auspices of U.S. Futsal.

SnapSports athletic surfaces, provide unmatched perform ace while also giving the athletes an added level or protection from injury on impact. " Our multi-patent sports surfacing is the ideal choice for such a fast action sport. We took our 30 years of manufacturing & experience and put it into the sports surface Futsal player will be competing on. We are very happy to be a part of such a great sports organization." Said Jorgen Moller, CEO SnapSports LLC. Moller went on to say, " We are working with numerous other organizations worldwide who are planning on upgrading to SnapSports as soon as possible, these are very exciting times for everyone in our company."


As Futsal was growing in popularity and the level of competition was dramatically increasing, Alexander Para, CEO of Futsal, found he needed to improve on the surface players were competing.  He was looking for a surface that would provide superior ball play, while at the same time give the players the safest sports surface available " We are delighted to work with SnapSports. They have become the leader in sports flooring, their quality, simplicity for installation and innovative product development made this the right choice for U.S. Futsal and the sport of Futsal" said Para, CEO of Futsal.

Located in Salt Lake CIty, Utah, SnapSports manufactures 24 hours a day, 7 days a week, 365 days a year in their 100,000 sq.ft state of the art facility.  The family at SnapSports is proud of their more than 30 years experience in the Outdoor Courts and Sports Flooring Industry, which has made them the fastest growing company in the industry.  For more information, please visit their website at http://www.snapsports.com or call 800-457-0174.