All the News...
| | |
| --- | --- |
| SNAP SPORTS NAMED OFFICIAL FLOORING OF UNITED STATES FUTSAL | |
National News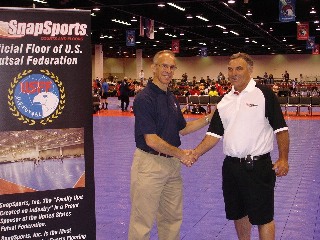 Alex Para, USFF President and
Dan Wollman, SnapSports Vice President
Berkeley, California (Futsal Wire) --  SnapSports LLC, the leading outdoor courts and modular sports flooring manufacturer, is named the Official Flooring of the United States Futsal Federation. US Futsal President & CEO Alex J.C. Para and Sr. Vice-President Dan Wollman of Snap Sport (pictured at right) signed the agreement at the 23rd Futsal National Championship

Futsal is a five-a-side version of soccer for competition and played on basketball-sized courts, both indoors and out without the use of sidewalls. This exciting and fast paced sport traces back to 1930's and today is played worldwide at every level. The U.S. Youth Soccer Association (USYSA) and U.S. Futsal signed an agreement in August of 1995 and in 1999, to promote Futsal in all their National State Association as their game of choice for indoor soccer under the auspices of U.S. Futsal.

SnapSports athletic surfaces, provide unmatched perform ace while also giving the athletes an added level or protection from injury on impact. " Our multi-patent sports surfacing is the ideal choice for such a fast action sport. We took our 30 years of manufacturing & experience and put it into the sports surface Futsal player will be competing on. We are very happy to be a part of such a great sports organization." Said Jorgen Moller, CEO SnapSports LLC. Moller went on to say, " We are working with numerous other organizations worldwide who are planning on upgrading to SnapSports as soon as possible, these are very exciting times for everyone in our company."
Read more...
| | |
| --- | --- |
| 22nd Futsal National Championship Concludes After Four Days of Intense Competition! | |
National Championship News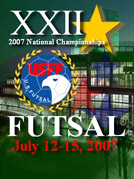 ANAHEIM, California -- The 22nd USFF National Championship concluded Sunday, July 15th after four days of intense and exciting competition. Eighteen State Associations where present from seven Regions, making this the most representative of all National Championships to date. The credit belongs to the State Associations and to the organizers of the Regional Tournaments, said Alex Para, President of U.S. Futsal. The final game of the competition was in the men's division, won by Utah United over World United, by a score of 5-4. With the growth of Futsal accelerating so rapidly over the last five years, so has this competition. Utah United came back from a three goal deficit in the last 7 minutes to regain the crown that they lost two years ago.  In the women's open category, "SoCal Futsal" from California Futsal South won its fourth consecutive title.  Team Manager and Coach Garett Hojisho has been a devoted supporter of Futsal since his team first competed in the National Championship 6 years ago.
Read more...
| | |
| --- | --- |
| U.S. Futsal alliance with NISOA | |
Referee News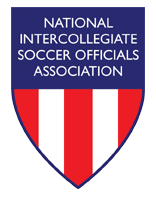 U.S. Futsal and the National Intercollegiate Soccer Officials Association (NISOA).  have entered into an alliance to bring the sport of Futsal (5-a-side soccer) to all colleges around the country.  (click here to visit NISOA today)
«
Start
Prev
1
2
3
4
5
6
7
8
9
Next
End
»
Page 9 of 9