| | |
| --- | --- |
| 2011 National Championship Results | |
NATIONAL CHAMPIONSHIP RESULTS 1986 - Present
U.S. FUTSAL FEDERATION  News release  12July 17,2011 Anaheim, California --
The 26th U.S. Futsal National Championship concluded Sunday, July 17th after four days of intense and exciting competition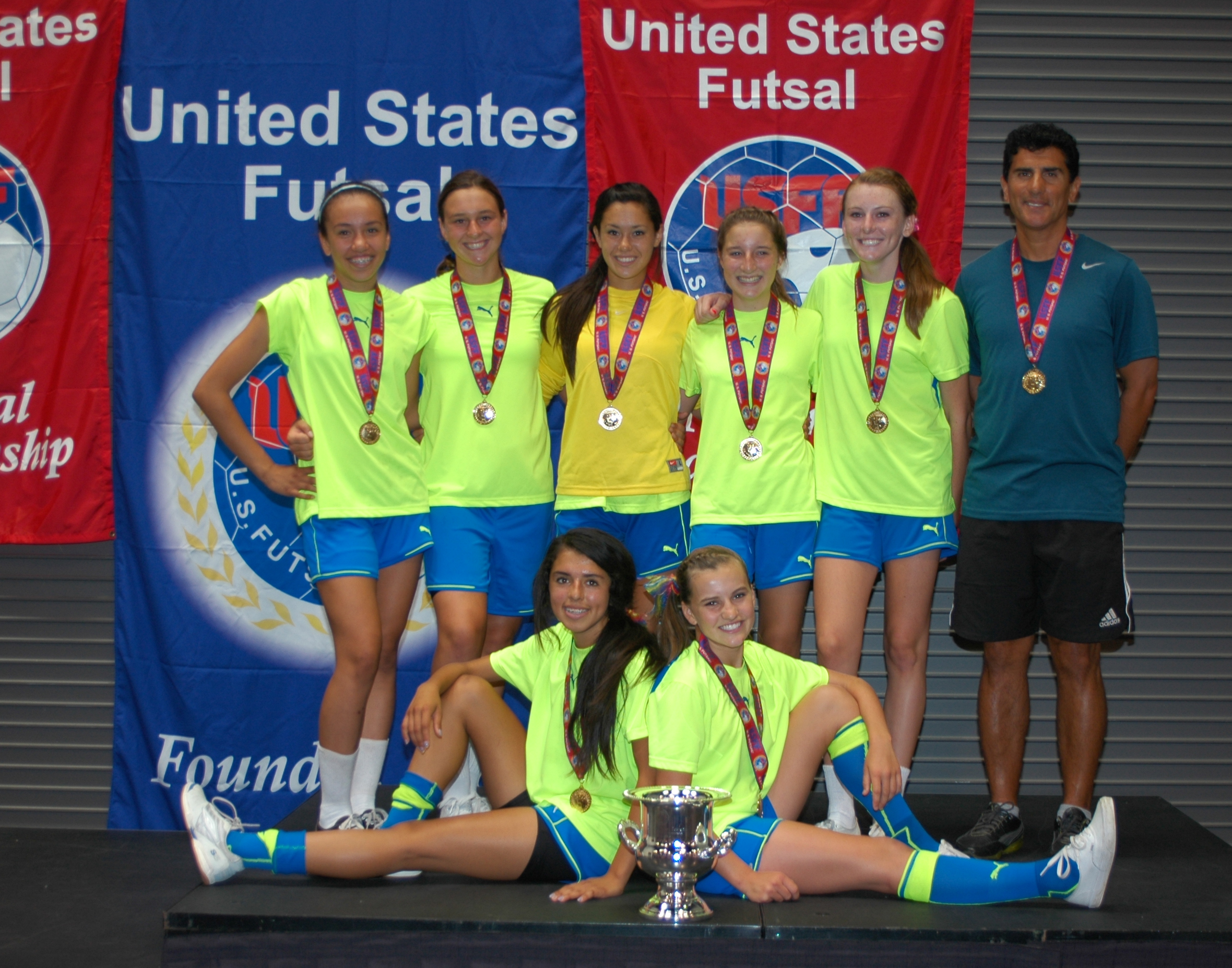 2011 U.S. Futsal National Champions Basso F.C. 
(U-14Girl's National Champions)

The biggest, oldest and most prestigious Futsal competition ended with teams from 14 different states winning medals. "This is great news", said Alex Para, President of U.S. Futsal, "because it not only shows how much Futsal has grown, but  how competitive it has become all across the United States".  With the growth of Futsal accelerating so rapidly over the last nine years, so has this competition. According to coaches feedback this has been the most competitive group of teams in a National Championship. The Men's Open competition was won by Safira from Massachusetts, who played against the 2010 National Champions Pro-Sala of Utah.  Safira represents the 8th different state association to win the National Title in the last eleven years. In the Women's Open category, Legends Futsal Club  from Northern California won its first title.


All the games in every division over the course of this event were well played and attended by more than 8,000 participants and spectators. This support was most likely bolstered by the fact that there was quite a cross-representation of teams from regions throughout the U.S. Five out of eight regions were represented in these finals.


Thirty eight referees, from various locations across the country, were invited to participate in this tournament. These referees have a combined total of 400 years of Futsal experience, which certainly enhanced the quality of games at this event.


U.S. Futsal congratulates all the teams that participated for their hard work, dedication and "fair play" throughout the competition.



 

2011 NATIONAL CHAMPIONSHIP RESULTS

 
CATEGORY
GOLD MEDAL
SILVER MEDAL
BRONZE MEDAL
 
 
 
 
U-8 Boys
WILLOW LEONES NEGROS
VANCOUVER FUTSAL ACAD
 
U-10 Boys
LEGENDS F. C.
WILLOW LEONES NEGROS
NE FUTSAL ACADEMY
U-11 Boys
LOS GATOS PUMAS F. C.
UC RAGE F. C.
RANGERS PREMIER
U-12 Boys
PUMAS F. C.
LEGENDS F. C.
UFA 99 PREMIER
U-13 Boys
THUNDERS F.C.
FUTSAL 415
GUERREROS
U-14 Boys
BNC BETHESDA REV.
EXPOS
PAC CACHORROS
U-15 Boys
DV DIABLOS F.C.
UFA LA ROCA
RICHMOND SOL
U-16 Boys
DV INTER F. C.
NE FUTSAL ACADEMY
B BALLERS F.C.
U-19 MEN
F.C CITY RANGERS F. C.
EAGLES F.C.
AMWAY F. C.
OPEN MEN
 SAFIRA F. C.
PRO-SALA F. C.
Di BUFALA F.C.
O-35 Men
UFA ECHO BRITE F. C.
UFA RIVER PLATE F. C.
PRO-SALA F. C.
 
 
 
 
U-10 GIRLS
LEGENDS F. C.
SMFC RED ANGELS F.C.
 
U-11 GIRLS
FUTSAL 415 F. C.
UTAH F.C.
F.C. BLADES
U-14 GIRLS
BASSO F.C.
UTAH F.C.
DV GODZILLA F.C.
U-16 GIRLS
UFA LA ROCA
FUTSAL 415
DV MISFITS F. C
U-19 WOMEN
HAWKS F.C.
LEGENDS F. C.
FUTSAL 415
OPEN WOMEN
LEGENDS F. C.
Di BUFALA F.C.
OUTBREAK F.C. FUTBOLITO
 
 
 
 

---