2014 National Championship Results
U.S. FUTSAL                                                                                          News release July 29, 2014
The 29th U.S. Futsal National Championship concluded Sunday, July 27 after three days of intense and exciting competition
!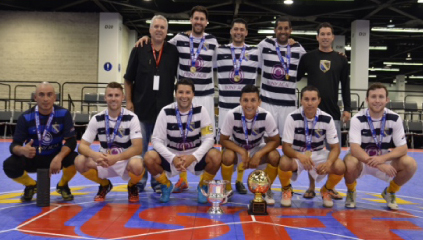 San Diego Sockers.  2014 U.S. Futsal Men's National Champions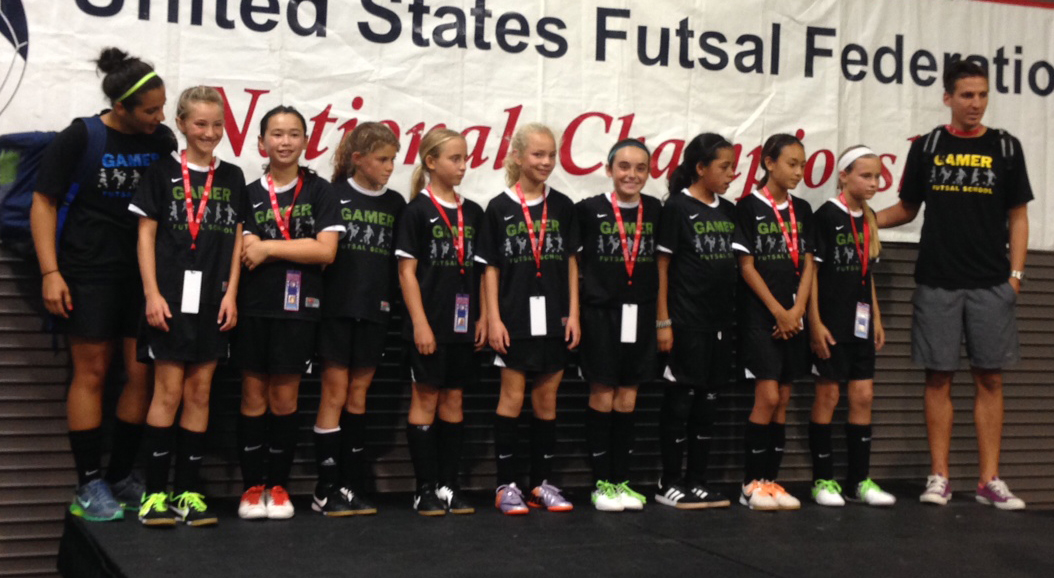 Burlingamer Futsal School - U-10 Girls 2014 U.S. Futsal National Champion
The Biggest,Oldest and most Prestigious Futsal competition ended with teams from 5 different Regions winning medals. "This is great news", said Alex Para, President of U.S. Futsal, "because it not only shows how much Futsal has grown, but  how competitive it has become all across the United States".  With the growth of Futsal accelerating so rapidly over the last ten years, so has this competition. Teams from the west coast dominated the competition, with teams from California North, capturing the most medals, followed by California South,Pennsylvania West, Utah, and New Jersey. The Men's Open competition was won by San Diego Sockers F.C from California, South, who played against  last years National Champions Safira from Massachusetts.  This is just the second time in 18 years that California-South has won the the National Men's Title. In the Women's Open category, the SF Knighthawks  from San Francisco, California won its first National women's title.
This year marked the seventh time the National Championship had 'age-pure' groups in the men's division. All the games in every division over the course of this event were well played and attended by more than 8,000 participants and spectators. This support was most likely bolstered by the fact that there was quite a cross-representation of teams from eight regions throughout the U.S.
Thirty eight referees and 15 timekeepers from various locations across the country, were invited to participate in this tournament.
U.S. Futsal congratulates all the teams that participated in the 2014 U.S. Futsal National Championship for their hard work, dedication and "fair play" throughout the competition.
2014 U.S. FUTSAL NATIONAL CHAMPIONSHIP RESULTS

 
 
CATEGORY 
GOLD MEDAL 
SILVER MEDAL 
BRONZE MEDAL 
U-8 BOYS 
STANISLAUS F.C.
SURF ACADEMY
BAY CITY GILROY
U-9 BOYS

 

VANCOUVER F.A.
STANISLAUS F.C.
LEONES NEGROS
U-10 BOYS

  

FUTSAL BRAZIL
BALLISTIC UTD
DIABLOS F.C.
U-11 BOYS

  

 LA ROCA
TEAM USA
FUTSAL 415
U-12 BOYS

  

SEATTLE QUICKFEET 
APEX F.C.
BSH
U-13 BOYS

  

SF BAY CITY
UTD FUTSAL ACAD
LEONES NEGROS
U-14 BOYS

  

JAG
D.V. DIABLOS
S.F. BAY CITY FUTSAL
U-16 BOYS

  

 LEGENDS
BARBARIANS F.C.
RICHMOND SOL COBRAS
U-17 BOYS

  

 SMC STARS
LEGENDS
STANISLAUS F.C.
U-19 BOYS

  

 AMWAY F.C.
BDJ
RICHMOND F.C.
OPEN MEN  
S.D. SOCKERS
SAFIRA F.C.
TOQUE
O-35 MEN

 

ELITE ECOBRITE 
Salt Lake Strikers 
DV DIABLOS 
 
U-10 GIRLS 
GAMER FUTSAL SCHOOL
MAGICAL MOVES
S.D. SURF
U-12 GIRLS 
NEW JERSEY DYNAMO
DYNAMO
GAMER FUTSAL SCHOOL
U-13 GIRLS 
GAMER FUTSAL SCHOOL
TVSA HAWKS
GILROY EAGLES
U-14 GIRLS 
L B CLUB AMERICA
BASSO HAWKS
LOBITAS
U-15 GIRLS 
S.C. SOCCER
L B CLUB AMERICA
LOBITAS
U-17 GIRLS 
SAVAGE F.C.
BARBARIANS F.C.
LADY LEGENDS
OPEN WOMEN 
S.F. KNIGHTHAWKS
GAMERS
MUSTANGS