2016 National Championship Results
U.S. FUTSAL                                                                                          News release July 20, 2016
31

st U.S. Futsal National Championship, the International Pacific Cup  and the Finals of the MLF Professional League Concludes After Three Days of Intense Competition!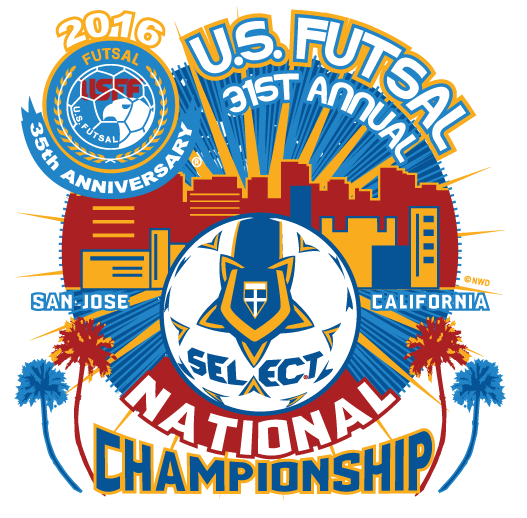 San Jose, California -- The 31st U.S. Futsal National Championship, the 12th Pacific Cup of Nations and the Final of the Professional Major League Futsal League  concluded Sunday, July 17th after threer days of intense and exciting competition. The biggest, oldest and most prestigious Futsal competition ended with teams from 11 different states in 23 categories winning medals. "This is great news", said Alex Para, President of U.S. Futsal, "because it not only shows how much Futsal has grown, but  how competitive it has become all across the United States".  With the growth of Futsal accelerating so rapidly over the twelve nine years, so has this competition. According to coaches feedback this has been the most competitive group of teams in a National Championship. The Men's Open competition was won by Legends F.C. from Northern California who played against the 2012 National Champions La Famiglia. In the Women's Open category, Toque F.C. beat Joga Bonitas Futsal Club 2 - 1.
In the MLF Professional Division Safira F.C. of the Eastern Division defeated Knowens from the Southwest Division 5 to 1
In the Pacfic Cup of Nations, the U17 Men category, the U.S. Futsal National Team beat Mexico 4 - 2, the U20 Men category was won by Australia, the Mens's category was won by Mexico, while the Women's gold medal was won by the U.S. Futsal National Team that defeated Chinese Tapei 4 - 0
All the games in every division over the course of this event were well played and attended by more than 8,000 participants and spectators. This support was most likely bolstered by the fact that there was quite a cross-representation of teams from regions throughout the U.S. plus the participation of the International Tournament and the Professional League Finals.
Fifty one of the best Futsal Referees from across various locations in the country, were invited to participate in this tournament. These referees have a combined total of over 500 years of Futsal experience, which certainly enhanced the quality of games at this event.
U.S. Futsal congratulates all the teams that participated for their hard work, dedication and "fair play" throughout the competition.
2016 U.S. FUTSAL NATIONAL CHAMPIONSHIP RESULTS

 
CATEGORY
GOLD MEDAL
SILVER MEDAL
BRONZE MEDAL
 
 
 
 
U-8 Boys
FUTSAL KINGZ
TOQUE
LEGENDS
U-9 Boys
FUTSAL KINGZ
HYPER FUTSAL
NAPA SPORTS
U-10 Boys
ALCONES F.C.
BALLISTIC UNITED
HYPER FUTSAL
U-11 Boys
FWB - California
LEGENDS F. C.
Cardinal Bears
U-12 Boys
Silicon Valley F.C.
Pac Atlas
AMWAY
U-13 Boys
TURLOCK EXPRESS
LA ROCA
SF 415
U-14 Boys
ALIANZA F.C.
BALLISTIC F.C.
COBRAS
U-15 Boys
FC BLACK KNIGHTS
JUNIOR FUTSAL
BAY CITY F.C.
U-16 Boys
JUNIOR  F.C.
RICHMOND SOL
LEGENDS F.C.
U-17 BOYS
BNC RIVER PLATE
COBRAS
LEGENDS F.C.
U-19 MEN
PAC SAN JOSE
BAY CITY F.C.

SPURS

OPEN MEN

LEGENDS F.C.

AMWAY

DI BUFALA F.C.

O - 35 MEN
UTAH ELITE
ARTRITICO UTAH
Di BUFALA
 
 
 
 

U-8 GIRLS

ANTHEM FC
DIABLOS
DIABLOS RED
U-9 GIRLS
SUSC UNITED
LADY LEGENDS
RFC

U-10 GIRLS

DV ACADEMY
ANTHEM F.C.
ANTHEM RED

U-11 GIRLS

LADY LEGENDS
VFC VANGUARDS
ANTHEM F.C.

U-12 GIRLS

GFS F.C.

ANTHEM
 BARCA F.C.

U-13 GIRLS

SAMBA FORCE
LEGENDS F.C.
LA MASIA

U-14 GIRLS

DYNAMO
GFS  QUAKES
ANTHEM F.C.

HSG GIRLS

UNITED
LEGENDS
F.C. EAGLES

U-19 

WOMEN

GFS

SOL FUTSAL
LEGENDS
OPEN WOMEN
TOQUE
JOGO BONITAS
F.C. ELK GROVE
PROFESSIONAL
 
 
 
MLF
SAFIRA F.C.
KNOWENS
LA FAMIGLIA F.C.
INTERNATIONAL
 
 
 
PC - U17MEN
UNITED STATES
MEXICO
AUSTRALIA
PC - U20MEN
MEXICO
AUSTRALIA
UNITED STATES
PC - MEN
MEXICO
UNITED STATES
AUSTRALIA
PC - WOMEN
UNITED STATES
CHINESE TAIPEI
AUSTRALIA
---